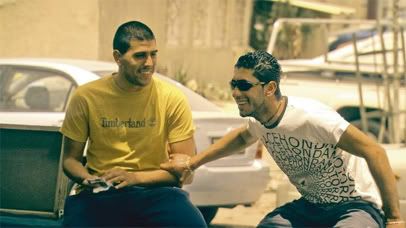 Israel is now the most nominated country without a win.
This year's nomination gives Israel a total of nine. It is now the eighth most nominated country ever. Only France, Italy, Spain, Germany, Sweden, Japan and the Soviet Union/Russia have more nominations. Arguably, each of these countries got an earlier start on building up their film industry. Israel didn't get its first nomination until 1964, the 37th year the award was handed out. Ironically (or perhaps not), it went up against France, Italy, Sweden and Japan that year.


Israel is on a roll.
Perhaps this doesn't mean too much, since Israel has already been in a three-year nomination streak before (1971, 1972, 1973)... but Israel has now been nominated for the last three years. "Beaufort" in 2008, "Waltz with Bashir" in 2009, "Ajami" in 2010. "Waltz with Bashir" was considered the likely winner for much of the campaign last year, only to be bested by the Japanese film "Departures."


The Academy loves upsets.
Not that they all get together and decide to give the award to the film no one was expecting, but those individual cases can add up and make a difference. Last year was a perfect example. Most Oscar-watchers expected Israel to get its first award until an upset was smelled in the eleventh hour. With "A Prophet" and "The White Ribbon" basically being year-long favorites and "The Secret in Their Eyes" being the film most are predicting to win, an upset seems possible. Three films to split the popular vote, and two to feast on the remains. "The Milk of Sorrow" seems to polarizing to have a chance, but anything can happen.


'The Jew factor.'
The Academy has a large Jewish population and while it obviously doesn't have a bias in favor of Israeli cinema, Jewish cinema does hold a special place in its heart. Just look at the sheer amount of Holocaust films that go on to do very well at the Oscars. Is it because they are all good? Maybe. Two years ago when "Beaufort" lost, "The Counterfeiters," an Austrian Holocaust film won. This isn't an exact science by any means... but this might lead to an edge here or there in certain years.


Israeli-Palestinian love.
Scandar Copti and Yaron Shani, the co-directors, are a perfect showcase of something the Academy is sure to like... one is Arab, the other Jewish. With foreign language entries from Palestine, Jordan and other Arab nations being submitted in recent years, we are getting more of a taste of Arab cinema. We already know the Academy loves Jewish cinema. Add to that the fact that it is the first film Israel has submitted that is mostly in Arabic and this film now looks great on paper. Progressivity is always a key factor to watch out for.


The Academy likes honesty.
This film is along the same lines as other films that the Academy has liked in recent years. "Crash" is what it is compared to most. I can see that. This is about people of different ethnicities and religions (Jewish, Arab-Muslim, Arab-Christian) all living in Ajami, a distressed neighborhood in Jaffa. Yes, sounds a bit like "Crash." The Academy liked "Crash." "City of God" has also been brought up. It's also a bit like "Gomorra," which the Academy didn't show much affinity for (I still can't figure out why not). While "Slumdog Millionaire" was shiny and happy, it also had plenty of color and grit that Academy definitely pats itself on the back for noticing. My point is, this film is very honest and very striking. If people take time to sit down and watch the screeners of all of the films, they just might be gripped by how truthful and incendiary this one is.


It's really good.
Some might say it is too intense, too violent. That hasn't stopped the Academy before... especially in recent years. No one said "The Departed" and "No Country for Old Men" were too intense and violent to win. Some say it's too confusing. You certainly have to be paying attention, since it's structured into different chapters that don't play out in order and there are a lot of characters going in and out. The fact of the matter is, the filmmakers spent seven years putting this together and it shows. It's very good.