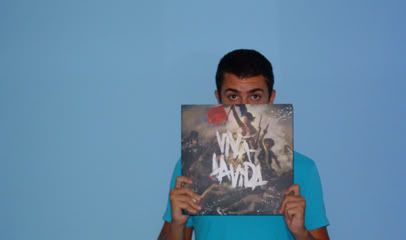 I have just made an important decision that very well could change my life forever (overstatement). I have bought my first vinyl album.

"Why?" "Where?" "How?" you ask. I'll tell you. I was at Best Buy buying new ear-phones for my ipod since my cat, Giuseppe, has now chewed through two pairs. On my way to the check-out counter, I walked by the new release CDs on a whim and it was there that I noticed, above the CDs, a giant Viva La Vida or Death And All His Friends album. Why was it giant? Because it is made for record players instead of compact disc players. And yes, I do have a record player.

I've already mentioned the new Coldplay album in an earlier post. I had already purchased it from iTunes, but I just could not resist buying this. It was only twenty bucks (and it includes a CD version as well, although I didn't know this when I purchased it). What an album it is! And what an album to buy for your landmark first vinyl! Amazing!

I don't know what this means for my future... but I certainly don't think it can be anything but good.